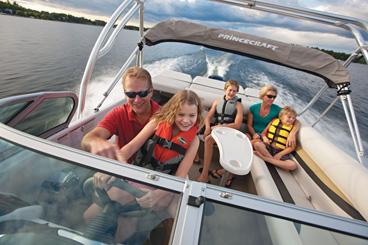 Summer is here and the time is right to get out and appreciate Florida's number one attraction-our waterways.  Lakes, rivers, the intracoastal, the Atlantic, and the Gulf: all provide Floridians, and our delighted visitors, with ample opportunity to enjoy a lazy day on the beach, or an active day of water sports, boating being the most popular. 
Florida's Favorite Pastime
There are close to a million Florida boaters, which is why our state ranks number one in the nation for boating. Safety on and off the water is a must. From kayaks to cabin cruisers, operating any watercraft carries some risk and a day of fun can quickly turn tragic in the face of an accident or mishap. Even a minor event can result in injury to a passenger, or damage to property, creating a liability for you and your family.
Education Saves Lives
One of the surest ways to prevent a seafaring calamity is by educating yourself, and anyone else who may captain your boat, on the rules and regulations set forth by the Florida Fish and Wildlife Conservation Commission, or the FWC. These are the officers who patrol Florida's waters, enforcing the rules of navigation, and ensuring every vessel afloat on our waterways is equipped with essential and fully operational, lifesaving equipment.
The FWC requires a mandatory boating safety course for anyone who owns, rents, or otherwise plans to operate a boat in the state of Florida.  The course covers everything from basic navigation, to disaster preparedness, and wildlife conservation. Contact the FWC  for more information on how to attend one of these affordable, and mandatory, boating courses.  
Responsible Boating
Basic boating protocols keep our waterways safe, but there are other safety practices to follow for responsible boating. In addition to providing each passenger with a life vest, you must include a throwable life-saving device, at least one fire extinguisher, and emergency flares, readily accessible, in your boat kit.  Of course first aid necessities, bottled water, and ready-to-eat foods should be part of your basic gear each time you venture out. Invest in a quality floating GPS device for easy location, should the need arise.
Run through a list of safety rules, for both children-and adults-who are eager and excited to go out on your boat. Make sure everyone understands the importance of wearing a life vest, staying seated, and refraining from horseplay.
Alcohol consumption, among passengers 21 and over, should be kept to a minimum.  Better yet, avoid it altogether. Boats and beer seem to go hand in hand, but it's a dangerous mix.  The hot sun can easily cause people to over-serve themselves, and that's never a good thing. The smarter choice, until you're back on land, is to drink water and stay hydrated.  And never, ever drink alcohol while operating a boat.  
Remember to always do your part to keep our waterways safe for everyone-including marine life. We share our freshwater and saltwater channels with all kinds of creatures great and small. Some, like the Florida Manatee, are on the endangered list, and to harm one, or disobey the wildlife markers can result in hefty fines, and even jail time. Mind the Manatee!
Just as you guard those you love when you're on the water, you guard your family, home and belongings the same way. SafeTouch Security, Jacksonville's number one security system provider for your home or business, values your trust. We offer guaranteed safety throughout Florida, whether you're home or away, and provide continued customer service, ensuring your home and family are secure, 24/7. Contact SafeTouch for your peace of mind.